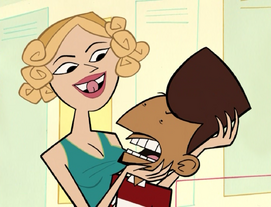 Catherine the Great

Gender:

Female

Age:

16

Hair:

Blonde

Family:

Catherine the Great (clone mother)

Voiced By:

Murray Miller

First Appearence:
Personality
Edit
She is one of the most popular kids in school and quite possibly one of the sluttiest. She speaks in a Valley Girl accent. She has been romantically involved with JFK and was attracted to Gandhi when he dressed up like JFK.
Appearance
Edit
She's a slender 16-year-old girl with short, rolled-up blonde hair. She wears a teal tank top and white pants.
Episodes Where She is Prominent
Edit
Raisin the Stakes: a Rock Opera in Three Acts : Smokes raisins in JFK's van.
Litter Kills: Litteraly -Hangs out with Caesar, Abe, Cleo, Ponce and JFK at the beginning. Later eats popcorn at Ponce's funeral.
Snowflake Day: A Very Special Holiday Episode : Goes to Cleo's party and gets doused in goat's blood.
Makeover Makeover Makeover: The Makeover Episode -Asks Gandhi to prom, later cancels when he stops being GFK.
Changes -Goes to prom with JFK
Ad blocker interference detected!
Wikia is a free-to-use site that makes money from advertising. We have a modified experience for viewers using ad blockers

Wikia is not accessible if you've made further modifications. Remove the custom ad blocker rule(s) and the page will load as expected.