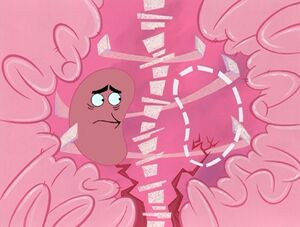 In the episode Escape to Beer Mountain: A Rope of Sand we found out that Gandhi was once Cleo's foster brother but got him kicked out because he wasn't good enough for her image even though he gave her one of his kidneys. Gandhi's remaining kidney is shown and says "I miss him". Gandhi's remaining kidney does not appear in any other episode
Gandhi's remaining kidney was played by Michael J. Fox.
Ad blocker interference detected!
Wikia is a free-to-use site that makes money from advertising. We have a modified experience for viewers using ad blockers

Wikia is not accessible if you've made further modifications. Remove the custom ad blocker rule(s) and the page will load as expected.